I was training a bookkeeper in QuickBooks this week and she referenced a well known book in the industry and told me that she "..knows she should just focus on a few industries and get really good at those." I stopped her and asked her if she wanted to know why I disagreed with that statement entirely. She said yes and I thought some others might like to know my answer as well.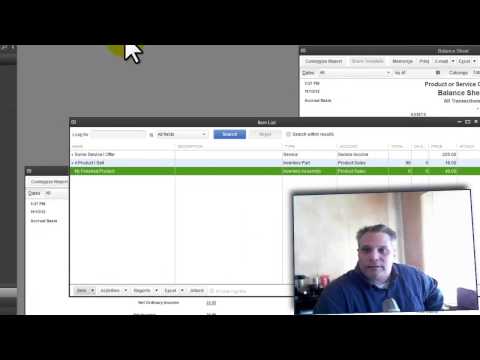 When you REALLY understand the accounting fundamentals that underlie a business then it doesn't matter what business you "plug in". The basic accounting is the same. Only descriptions and other details change. We have two basic business models that we are concerned with as accountants and bookkeepers. Service based businesses and product based businesses. Then of course you have your hybrid businesses which encompass both models. Nothing new, just a combination of services and products to sell.
Let's look at the service based business. When I talk to a prospect for the first time I ask them to walk me through their "typical" transaction, from the minute the customer walks in the door to completion of the job, or as the case might be, until it get's into "maintenance mode" which means everything is set up and now we are providing essentially the same on going service each and every month. The basic model is the same. What I am doing when I am listening to the prospect is I am thinking in terms of how I would translate their operation into financial transactions. How might I set up their items. Before I can think about that I have to think in terms of what their balance sheet and P&L should look like.
In a service based business you are selling a product. Oh my G-d what ever do I mean by that?! It's a service, not a product!! The product we sell in a service based business is time. We're selling hours of our time and charging a fee for it. Then we bring in other people to help with some of the work. Now we are paying them for their time. We are buying the product from them and then marking it up and billing that back to a client. So if that "time" we are buying and selling is for a bookkeeper, a lawyer, or an engineer does it really matter in terms of the accounting? At the core level I think not. The items will be described differently and depending on what they do operationally (ie. what outside software they might use) some of the dynamics might be different, but in the end the accounting is the same. There is a cost (someone's time) and I have to figure out how to get that cost onto the (eg.) Direct Labor line item on the P&L. I also have to decide if that cost will be classified as "Cost of Goods Sold" or if I want it in the "Selling, General, and Administrative Expenses" section of the P&L. For tax purposes you can never really have "cost of goods sold" without having actual inventory that you sell, but for financial reporting purposes in a service based business we like to see "Direct Labor" as Cost Of Goods Sold so that it shows up as a direct write-off against income and we can see that we are making a profit (Gross Profit) on our main product – time.
If you haven't already watched it, the video above will demonstrate an example of what I mean.
Now lets look at a Product Based business. Does it really matter whether my items are called T-shirts, Earrings, lug nuts, or donuts? It matters to the customer, yes. If someone walks into an auto supply store and asks for
lug nuts and you give them a donut they might enjoy it, but they will still be wondering where the lug nut is! For accountants and bookkeepers I am going to say that it makes absolutely no difference whatsoever except in how you set up your items. The core accounting does not change and you can plug in ANY product model to the following and it fits:
I buy inventory and it goes onto my balance sheet as.. well.. Inventory!
Then I sell the inventory and I have a sale (income) and the inventory moves off the balance sheet and onto the P&L (Cost Of Goods Sold).
Again some of the dynamics change but the basic accounting flow for any product based business is no different, regardless of the product.
But wait!! What if I am manufacturing my products? Here we have an added layer of complexity in terms of where I am getting the products from. I am still buying the raw materials from somewhere. Then I am assembling them into a finished product. Then I am selling that for more than what it cost me. Again does it really matter accounting-wise if those products are jewelry or lemonade? The only difference in reality is what I am calling my items.
When I listen to the prospect describe their product based business to me, no matter what they are selling I am thinking in terms of what that will look like in QuickBooks. What do they need to keep track of and perhaps most importantly, what information will they need to get OUT of QuickBooks or any accounting software for that matter. Then I know how I want to set up the items so that I get the best possible end result – Balance Sheet, Profit and Loss, and Statement of Cash Flows as well as any specific reports that I define with the client so that they are getting their needs met and getting the most out of the fees they pay me. Each Friday my clients get a set of reports e-mailed to them.
I am living proof! I have handled clients from so many different industries because I have learned to look at every business from the core. I have worked with affiliate marketing management companies, jewelry manufacturers, plumbing, general contractors, marketing companies, restaurants, web designers, IT Companies, business coaches, and many more businesses in very unrelated industries. I have also already helped many many bookkeepers and a few CPAs to learn things from this perspective. If you are an accounting professional and you are reading this you most likely already have the knowledge right inside of you. You just have to shift your thinking a bit.
So again I ask. Why do accountants and bookkeepers want to limit themselves?