I am often asked by people who have never used twitter and have no idea what to do with it, "What can I do with 140 characters?"
I have given talks about this topic and I can fill up an hour very easily just answering that one question! Don't worry; I am not here to do that today.
Twitter has its own language right? We have tweets, and retweets. We have Direct messages, friends, followers, lists, auto-responders, tweet deck, hootsuite, tweetlater, tweetnow, tweet for friends and all kinds of tools that connect and work with twitter to accomplish one basic thing.
Communicate.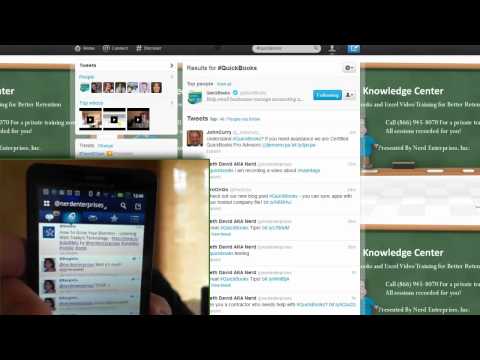 We use Twitter to communicate with lots and lots of people at once. There are millions of conversations going on about millions of topics on twitter 24/7. So how do you find out what people are saying about a topic? Well you can search twitter (www.search.twitter.com) based on keywords, but when there is a particular keyword or phrase that people want to use to deliberately group messages about that topic in one steady stream, we use what is called a hashtag. At the upcoming Sleeter Group Small Business Technology Road Show we will be using a hashtag (#SmallBizTech) in order that people on the internet can communicate with people who are at the conference using their smart phones.
Today I want to explain about Hashtags. A hashtag is really a way of carving out a stream on twitter around a particular topic using a keyword preceded by a '#'. This is a way of turning twitter into something of a chat room. When you post a tweet with a hashtag in it, that word becomes hyperlinked so that you can click on it. When you do click on a hashtag you will be taken to a stream of tweets all of which contain that hashtag. So the way to get in on that conversation is to simply post a tweet with that hashtag included in your tweet. Remember that you are limited to 140 Characters and that includes the hashtag itself, so if you are trying to pick one for your live event try and keep it short but meaningful. This way your conversation on twitter will be singing with great information, people will be sharing and having fun all using that tool that had you wondering..
WHAT CAN I DO WITH 140 CHARACTERS?
Hashtags are a great way for you to be seen by others on twitter who are interested in that same topic. Remember that when you post a tweet during a live chat, all of the other people participating in that chat are seeing you (your handle) so be sure and be interestED in others. That is how you get attention. Don't try to be interestING, more than likely you will fail. Ironically, when you become interested in others, that is when you actually start to become interesting. If you do post interesting content during one of these live chats people are likely to follow you. Then later on, long after the chat is over you now have more people with a common interest who are following you and you should follow them back because they share an interest. That is the important qualifier on following back – you have a shared interest. Don't simply follow someone just because they followed you. In fact while I am at it, if you want to try one out, every Sunday night at 9pm Eastern you can join in on #blogchat and yes, you guessed it; it's about blogging. We are chatting on Twitter about blogging. If you want to learn about a skill that is continually increasing in importance for business then try this out. The conversation is hosted by Mack Collier.
There is an art to communicating on Twitter.
For one thing I have learned how to cut the fat out of what I am trying to say and get right to the point. I used to write a lot and then have to edit my message down chiseling away until I knocked it down to 140 characters. In the process I realized how much I had in my writing that I really didn't need to have there and I was still able to get the message across. Now it comes more naturally to me, especially when I am focused specifically on writing for twitter. I started learning to write my e-mails this way. Giving people just what they needed to know. This increased my efficiency tremendously.
Twitter as a listening tool
When I first started making videos I needed ideas for what to make videos about. As I mention in the video here, once you create a hashtag search you can see what everyone is saying using that hashtag. So I watched the #QuickBooks hashtag and added that search as a column in Tweet Deck. I waited and when I saw someone describing something they were having trouble with I went and recorded a tutorial, posted it on my blog and then replied to the tweet saying, "hey I've got your answer right here." Much of my earlier content was produced exactly this way. Eventually I broadened my horizons and when I noticed someone asking on Twitter if anyone knew how to embed a spreadsheet in a PowerPoint presentation I produced this video and tweeted the link to them as a reply: How To Insert An Excel Spreadsheet Into PowerPoint. What a coincidence that I "happened" to have a video that answers their question so specifically
So I was "listening" for what people needed help with. Then I would give them the help well above and beyond what most other people were willing/able to do. Do you think that got their attention? Do you think they told others about it? Of course they did. Guess who they called the next time they needed software training help? And they already knew that I knew how to teach so the selling work was done. The more I did this, the more I started finding out just how effective twitter was.
You will get all you want in life if you help enough other people get what they want.

-Zig Ziglar
It really works! Even if you can't make videos (which by the way you can, you just have to be willing to learn and play) you can write a blog post with screen shots. Oh and do you know what the byproduct of all of this is? I was building content. Now 4 years later (I started doing this in 2009) I have a TON of content and content is king (audience is queen). Today I get calls every day from people all over the country and even other parts of the world from people who were searching the web and found my content.
Are you starting to see what you can do with 140 characters now?
Taking Twitter On The Sleeter Group Small Business Technology Road Show
When our presenting sponsors are in the hotel conference room explaining how their products are going to help you take your business into "The Cloud" so you can run your business more efficiently you will be sitting in a chair, leaning forward soaking up every word. If not every word the presenter is saying then every word of the text message you just received from your friends who are updating you on the latest of what's happening on The Housewives of Orange County. Either that or you will use that same smart phone and do something smart with it. As I demonstrate in the video you will want to be prepared with a twitter app installed on your phone. Search your marketplace or app store for "Twitter App" and you will find no shortage of them. I use something called "Tweet Caster." While you are sitting in the conference you will want to bring up the following hashtag in your twitter app: #SmallBizTech. What I invite you to do is post on Twitter using that hashtag and let us know what you are learning about. More importantly you can ask questions and the presenters can check the stream using their own twitter app and respond. This is great, but here's where it gets really interesting..
People who aren't at the conference can participate by listening and replying, which in this context means monitoring the #SmallBizTech hashtag and then they can participate by commenting and asking questions as well. So now we are bringing the outside world right into the conference center during the presentations and during the whole Road Show.
Follow The Sleeter Group On Twitter and you will see us tweeting using the #SmallBizTech hashtag. All you have to do is click on it or tap it on your smartphone and your Twitter App will create a stream so you can join in on the conversation.
Got questions, comments, or feedback? Use the box below and please subscribe to The Sleeter Group YouTube Channel as you can expect to be seeing more updates there as well as Twitter from what's going on to valuable tips and information that you can use today!
Category: Expert's Corner, For Consultants/Accountants, For Small Business Owners, Seth's Video Blog, Success Tips, Technology/Trends
I started
Nerd Enterprises, Inc.
in 2003 and continue to work with individuals and companies to cure their financial headaches. Training, writing, blogging, social media and generally building communities around these areas as well as technology has become another passion of mine.