Now that we are coming into the last quarter of the year this is a really good time to think about what we have accomplished compared with what we set out to do. A sort of "Operational Variance Report."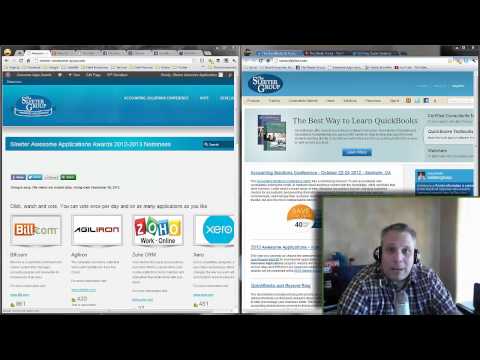 We start with the "Budget." How many new clients did we want to add on this year? How much in Revenue? More to the point of operational did we adopt the technologies that we'd hoped to when we started the year? Certainly by this past January you must have heard of this (not so) new concept of "The Cloud?" Did you adopt? Have you succeeded in taking advantage of the opportunities you wanted to in terms of increasing the efficiency of your business by using new applications aimed at helping you get there? Did you identify the best File Sharing service for you or your clients to start using so that you don't have to sift through a sea of e-mails to find what your client needs you to work on? More importantly these services offer better security than your typical mail server so this is probably an important one.
What about cloud accounting solutions? Was this on your radar this year? Did you do anything about it? There are hosted solutions that let you put your complete desktop software editions in the cloud so you can access them anywhere any time. Then there are Cloud based accounting solutions There are also a ton of expense reporting solutions, time tracking, management, and billing solutions, and so much more that we can increase this list ad infinitum!
What smart phone apps have you started using this year for your business? There are so many that it can be overwhelming just thinking about it. Relax! The hoop you have to jump through is wider than you think. It is not by accident that I am writing this today and asking you to think about these things. It is not too late to get in on the efficiency savings by starting right now to take steps in your research about where to start and which applications might be best for yours or your clients' needs. Here are about 20 such applications and while you're at it, watch a few of these videos and vote for the ones you like on the Sleeter Awesome Applications Awards Site. Voting ends September 28, 2012.
Are you taking advantage of social media to grow your business? More than before? Maybe you are still unclear or you still think that social media won't work for YOUR business? I can assure you that this is the biggest mistake you can make about social media – thinking it won't work for you. Where are your potential customers? Where is everybody these days? Are they looking up or down? Yeah you got it. Are they looking right down at their smart phones? Maybe that is even where you're looking as you're reading this post? Social Media is in the cloud. It is advanced communications software. Most of us don't look at it that way because we're trained to think of it as being about "connecting." Isn't connecting all about communicating? So it isn't really farfetched to see that social media as applied to any business model is about going out there and communicating with your customers, prospects, and vendors in a forum where you have the opportunity to get immediate feedback.
Big companies spend millions on one way advertising and have no way of knowing without spending more millions collecting data whether or not that advertising message was effective. With social media you have an opportunity to adopt a means of communicating with people that can only help you take your business where you want to go much faster than any traditional medium and for a lot less money. Still think social media isn't appropriate for your business?
Still overwhelmed? Like I said it is not an accident that I am writing about this today. There are several upcoming events that I want to make you aware of so you can get help by getting exposure to what is out there filtered by people like myself and the rest of the team at The Sleeter Group to bring you information about what we feel are the best applications worth your time in looking at and evaluating what will work best for your business. If you haven't already, watch the video above and check out the links below for information about these events.
You're going to see us making much more use of these social media tools so do join us in the high road to a freedom and happiness that only those who are up to date with the latest small business technology can really enjoy!